TERVETULOA KUVA GALLERIAAMME
Welcome to Our Photo Gallery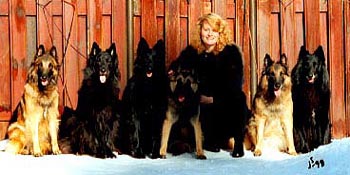 Copyrights all the PHOTOS by
Ritva(RS) & Jan(RSJ) Salmi.
None of the material on this Web.site
can be used or copied without permission.
PLEASE, respect the COPYRIGHT !
Copyright oikeudet kuviini on MINULLA ja niitä
ei saa kopioida muille sivuille ilman lupaani.
Kennel Album
-GROENENDAEL& TERVUEREN
Black Master's Kasvattini /
Breeding Of My Own
Import Album - Tuonti koirani / My Imports GROENENDAEL & TERVUEREN
Internat. Album- Kansainvälinen Kuva Galleria International Photo Gallery
Paljon kuvia GROENENDAELEISTA JA TERVUERENEISTA ympäri maailman.
Lots of WONDERFUL photos of GROENENDAELS & TERVUERENS
( only some Laekenois & Malinois )
Family Album / Perhe kuvia
Elämää, koiriemme kanssa. Häät, Pentumme, Kesä toimintaa, Talvikuvia
Our life with dogs. Wedding, Puppies, Summer hobbies,Winter...
French Special Shows -
Belgianpaimenkoirien erikoisnäyttelyitä Ranskassa, kuvia & tuloksia
French Spec. show. Results and photos.